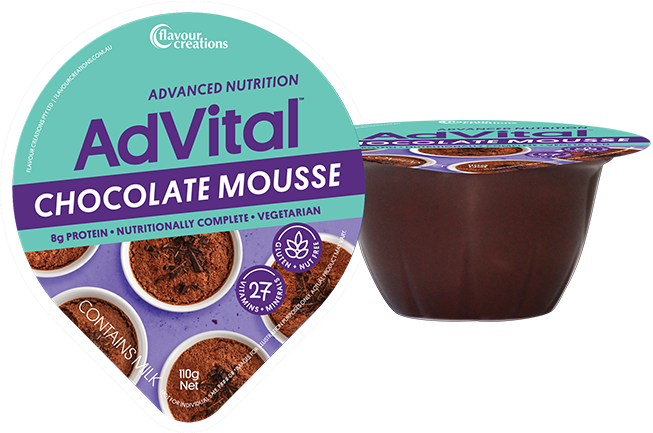 AdVital Chocolate Mousse (12 pack)
SKU AV002
Product Details
AdVital Chocolate Mousse is choc-licious and packed with protein. A delicious, nutritionally complete snack with no artificial colours, flavours or preservatives. It is a source of fibre and gluten free.
1.3kcal/g
High Protein (8g per serve)
Nutritionally Complete
27 Vitamins & Minerals
Gluten Free
Source of Fibre

Nut Free
No Artificial Colours or Flavours
No Preservatives
Soy Free
Kosher Certified
Halal Certified
Ingredients
Filtered Water, Cane Sugar, Full Cream Milk Powder, Calcium Caseinate (Milk), Maltodextrin, Inulin, Vegetable Oil, Natural Flavours, Cocoa Powder (1%), Thickener (415), Minerals (Calcium, Chloride, Phosphorus, Magnesium, Copper, Iron, Zinc, Manganese, Chromium, Molybdenum, Selenium, Iodine), Vitamins (C, D3, E, B3, A, B5, B1, B6, B2, K1, B12, Folate, Biotin), Salt, Stabilisers (452, 450).
CONTAINS MILK.

AdVital is a Food for Special Medical Purposes, specially formulated for medical conditions where nutritional needs cannot be met through diet modification alone. Always read the label. Use only as directed. Must be used under medical the supervision of a healthcare professional. supervision. Speak to a healthcare professional to find out if AdVital is suitable for you. AdVital is suitable as a sole source of nutrition or supplement. Not suitable for children under 3 years of age. Not suitable for parenteral use. The advice given here is intended as a general guideline only and is not intended to replace the advice of a healthcare professional. Nutritional supplements can only be of assistance where dietary intake is inadequate. Please seek advice on your individual needs from an Accredited Practicing Dietitian or your healthcare professional. All information stated is correct at time of publishing and subject to change without notice. © 2020 Flavour Creations.
Save this product for later